Archaeologists from the National Institute of Anthropology and History (INAH) have announced the discovery of a burial chamber in the Archaeological Zone of Palenque in Mexico.
The chamber contains a primary burial, consisting of a complete human skeleton, and a secondary burial, which includes three plates and a niche with various green stone figures. The discovery was made during archaeological salvage work in the CP3 Structure as part of the Program for the Improvement of Archaeological Zones.
The skeleton from the primary burial was found in a face-up position and oriented to the north, in accordance with the ancient funerary customs of Palenque. The skeletal remains from the secondary deposit were likely those of a woman who was buried elsewhere and moved to the antechamber of the chamber during a reopening event. The INAH is continuing to analyze another skull found in the secondary burial for identification.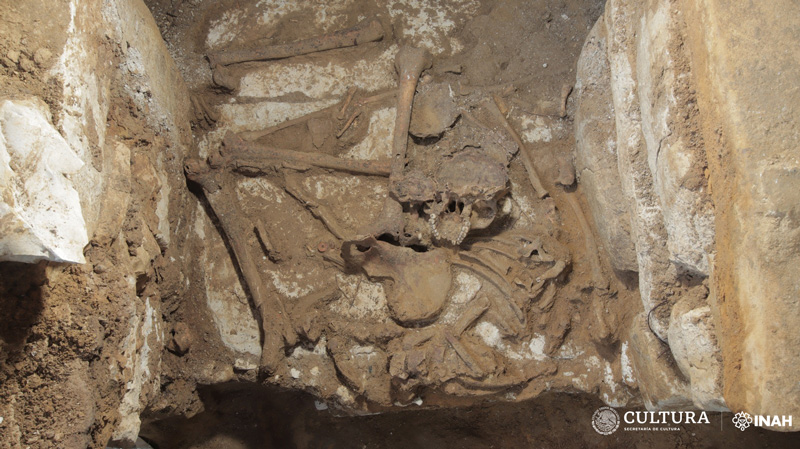 In addition to the discovery, the INAH has provided updates on its ongoing work in the area. The construction of the Visitor Center in Palenque is nearly complete, and rehabilitation work is underway on the museum, as well as the renovation of its installations. The scientific script of the Palenque museum is being updated, and new signage for the archaeological zone is being prepared. The INAH is also rehabilitating walkways in various sectors of the archaeological site, including Group IV, a new area that will be opened to the public.
As of March 20, 2023, the INAH has recovered 2,655 real estate assets, 218 movable goods, 255,683 ceramic fragments, 177 human burials, and 38 natural features associated with the landscape.
via: https://inah.gob.mx/